Alta Mira's New Meeting Finder Helps You Connect With 12-Step Support Groups Nationwide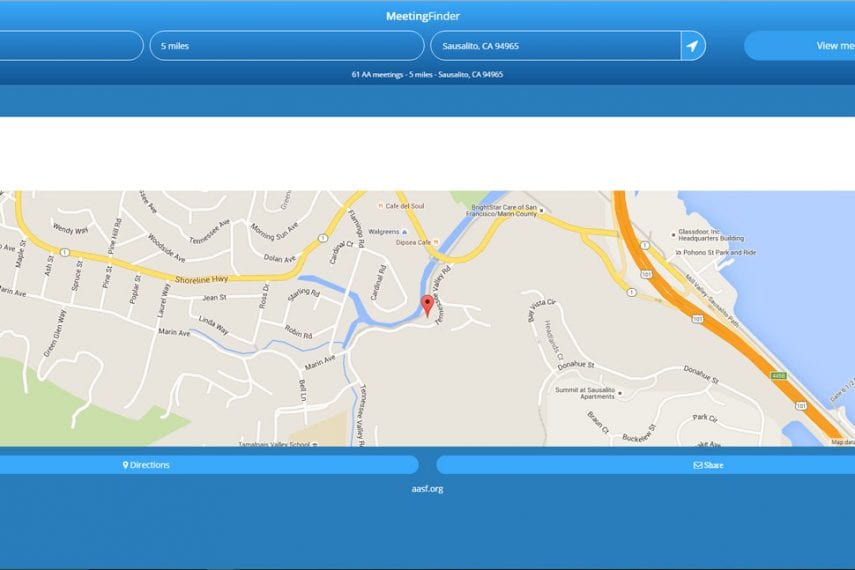 Alta Mira is pleased to announce the release of their Meeting Finder, the most comprehensive, searchable database of 12-step addiction recovery meetings across the United States. Created as part of our commitment to improving the lives of all people touched by addiction, our Meeting Finder is designed to help you connect with the resources you need to aid your sobriety, regardless of where you are in your recovery journey.
We recognize the unique needs of families touched by addiction, which is why we have also included a full spectrum of support groups designed to help the loved ones of addicts on their own paths to healing.
The Meeting Finder offers over 175,000 12-step listings across the country, including AA, ACA, Al-Anon, Alateen, CA, CMA, CODA, COSA, DA, EDA, GA, MA, NA, NicA, OA, SA, SAA, SCA, SLAA, and SMART meetings. No other meeting finder includes so many different fellowships. Simply select your meeting type and location, and this database points you to exactly what you need when you need it, whether at home or away. Meeting Finder was designed to work on any device—your PC, tablet, or mobile phone—ensuring you can always find the meeting you need.
An Integral Part of Recovery
---
12-step peer support groups are an invaluable resource for people throughout their recovery journey. Whether you're considering sobriety for the first time, implementing a continuing care plan following residential treatment, or are a long-time 12-stepper, these groups serve as a critical piece of your healing process, helping you minimize the risk of relapse and strengthening your commitment to your recovery. Not only do meetings give you the opportunity to develop practical tools that enhance your recovery process, they can also serve as a vital source of emotional support, motivation, connection, and community as you forge your path towards sustainable sobriety.
For the loved ones of addicts, peer support groups offer a place of solace as you weather the storm of your family member's addiction. Being able to share with and learn from others who understand your struggles can be a deeply nourishing experience that allows you to reach deeper levels of self-awareness, and give you the strength to mend the damage addiction has caused in your life. Whether your loved one is in recovery or still using, groups like Al-Anon, CODA, ACA, and more give you the opportunity to focus on your own healing in the company of those who know what you are going through.
Increasing Connection
---
At Alta Mira, we know that the recovery process can be unpredictable, and you may need support on a moment's notice. That's why we designed this Meeting Finder to be both extraordinarily thorough and user-friendly, ensuring that you can easily find what you are looking for, regardless of the type of device you are using. To make connecting with 12-step supports even easier, we encourage you to save the Meeting Finder icon on your smartphone or tablet's home screen:
iPhone or iPad
When viewing the Meeting Finder, click the "Share" button at the bottom of your browser screen.
Click "Add to Home Screen."
Android Phone or Tablet
When viewing the Meeting Finder, select the hamburger menu (stacked lines) in the upper corner.
Click "Add to Home Screen."
We want to connect you with the tools you need to overcome addiction's troubles, and providing a quick, straightforward guide to support groups near you through our Meeting Finder is just one way we do so. We hope that it helps you open up new avenues toward healing and recovery.
We also invite your feedback on Meeting Finder. Please let us know if you have any suggestions for meeting changes, additions, or other product improvements!

Alta Mira offers comprehensive treatment for people struggling with addiction as well as co-occurring mental health disorders and process addictions. Our renowned programs combine the most effective, evidence-based therapies with a compassionate, holistic approach to addiction recovery and dual diagnosis treatment. Contact us to learn more about how we can help you or your loved one start the journey toward recovery.