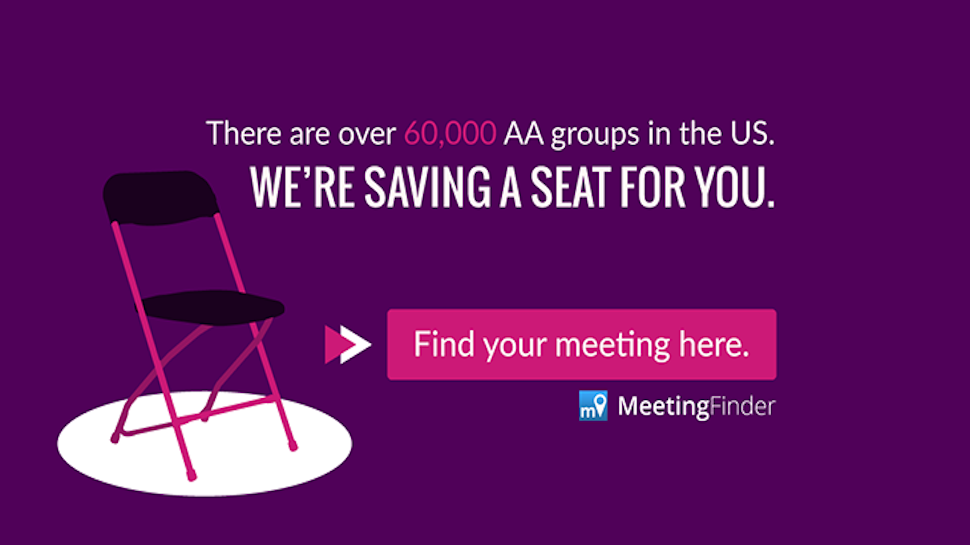 Meeting Finder: Locate 12-Step Support Meetings Nationwide
Meeting Finder: Locate 12-Step Support Meetings Nationwide
For many, 12-step peer support meetings are a critical part of minimizing the risk of relapse, strengthening your commitment to sobriety, and enhancing your ongoing recovery.
Residential treatment is the beginning of an extraordinary journey of transformation and possibility as you heal from the pain of addiction and embrace a life of recovery. Continuing that journey after you leave residential care is essential to preserving and building on the gains you have made in treatment.

Within groups like Alcoholics Anonymous (AA), Narcotics Anonymous (NA), and many more, you can receive support, camaraderie, and solace from people who understand, and pursue your personal work on the 12 steps. 12-Step meetings are free and available all over the country, ensuring that you can easily access the fellowship and recovery tools you need, anywhere. And Meeting Finder was designed to work on any device—your PC, tablet or mobile phone—ensuring you can always find the meeting you need!
Meeting Finder includes listing across the United States for meetings in the following fellowships:
Alcoholics Anonymous
Adult Children of Alcoholics
Al-Anon
Alateen
Cocaine Anonymous
Crystal Meth Anonymous
Codependents Anonymous
Codependents of Sexual Addiction
Debtors Anonymous
Drug Addicts Anonymous
Eating Disorders Anonymous
Gamblers Anonymous
LifeRing
Marijuana Anonymous
Narcotics Anonymous
Nicotine Anonymous
Overeaters Anonymous
Sexaholics Anonymous
Sex Addicts Anonymous
Sexual Compulsives Anonymous
Sex and Love Addicts Anonymous
Self Help Substance Abuse & Addiction Recovery (SMART)
If you are looking for a meeting, we invite you to use our Meeting Finder to connect with a group near you: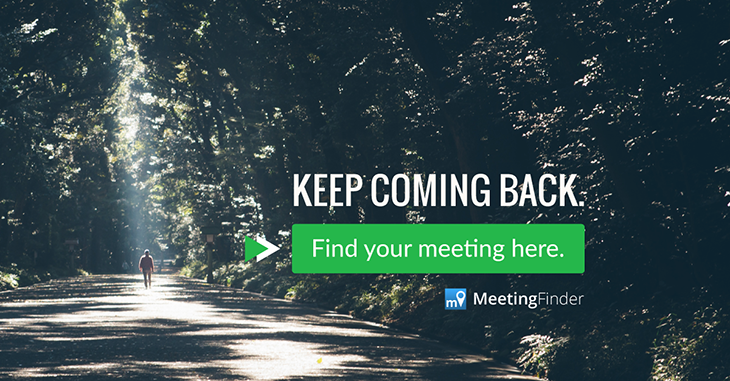 The Meeting Finder allows you to search for a meeting anywhere in the United States, giving you the ability to connect, regardless of whether you're at home or on the road. Once you have found a meeting, you can also share it with others, sending an email from within the Finder. With over 175,000 12-step listing across the country for AA, ACA, Al-Anon, Alateen, CA, CMA, CODA, COSA, DA, EDA, GA, MA, NA, NicA, OA, SA, SAA, SCA, SLAA, and SMART, you can be sure to find exactly what you are looking for to help you on your personal recovery journey.
Adding Meeting Finder to Your Home Screen
---
To make it even easier to connect to recovery support groups, you can install the Meeting Finder icon on your mobile device for instant access:
iPhone or iPad
When viewing the Meeting Finder, click the "Share" button at the bottom of your browser screen.
Click "Add to Home Screen."
Android Phone or Tablet
When viewing the Meeting Finder, select the hamburger menu (stacked lines) in the upper corner.
Click "Add to Home Screen."
We invite your feedback! Please send us suggestions for meeting changes, additions, or other product changes by using the Feedback link in the upper corner of Meeting Finder.
If you need additional guidance or referrals to any other resources that may help your recovery, we encourage you to contact us at any time.