Spiritual Awakening in Addiction Treatment: An Interview with Anna Welsh, PhD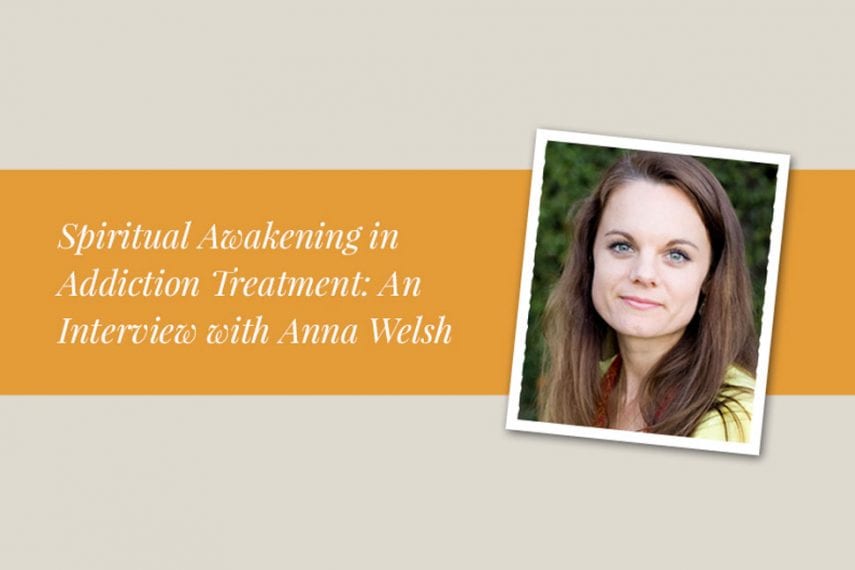 Addiction recovery always starts with a desire for an ending—the end of drinking, the end of using, the end of craving. Addiction treatment is designed to guide you toward those endings, giving you the ability to stop, allowing you to leave that version of yourself behind. But Anna Welsh believes that knowing what to move away from is not enough. "That's only a small sliver of what's going to help you live a life that's nurturing and sustainable and inspiring," she tells me. "You also have to know what to move towards."
Anna is the Director of Integrated Healing at Alta Mira. Through individual spiritual counseling sessions and a series of three workshops, she guides clients through a profound process of spiritual exploration and self-discovery to deepen their awareness and awaken their sense of possibility. By inviting clients to look beyond their addictions and become connected to the core of their beings, Anna helps clients create new beginnings. Here, she talks about how the spiritual exploration begun at Alta Mira can give clients the insight, strength, and hope they need to enrich their lives and their spirits.
Spirituality in Treatment
---
The intent of Alta Mira's spirituality program is to strengthen our clients' sense of meaning, connection, presence, and awareness, to both buoy them at a time of intense change and expand their abilities to live with joy and purpose. For Anna, spirituality is not about religion or a particular practice, but "what it is that gives me meaning in my own life and a sense of connection both within myself and to something outside of myself."
I love Cindy Wigglesworth's definition of spiritual intelligence: 'It's the ability to behave with wisdom and compassion, while maintaining inner and outer peace, regardless of the circumstances.' That takes away the discussion of religion or any particular belief system, to just focus on being aware and present, being a loving presence for yourself and for others, and discovering what can help you with that and what can get in the way.
The process of spiritual exploration can be vital to deepening your understanding of what it is that will help you not only recover from addiction, but build a nurturing relationship with yourself and connect with the world around you in a way that will allow you to flourish.
I see it as a process of lifting the veils and getting down into the core of 'What is my authentic self? Who is that person and how does that person show up in the world?' The thread is really about finding your way back to a person's core. Often that's about reconnecting someone to a feeling of hope and faith in themselves. How we do that and what that journey looks like is often very unique and different, but that is the intention that I hold.
Spirituality Counseling
All clients who come to Alta Mira attend an individual spiritual counseling session with Anna in which they can begin to look at who they are, what they believe, and what they have inside themselves that will sustain them. "We talk about their beliefs and what it is that helps them feel a sense of hope, a sense of connection to others, and a sense of connection to something greater than themselves," she explains. "Many of the people who come in are struggling with lives that are completely unmanageable. Finding tools to be present with what is, especially if that what is is something painful, difficult, or challenging, is where a lot of the work starts."
This spirituality counseling session can open up a door that has been closed by addiction, trauma, and overwhelming emotional suffering, and can reintroduce you to your true self. Beginning to investigate questions of not just how you end addiction, but how you engage with yourself in a way that is spiritually fortifying, can be a profoundly transformative process.
You begin to explore,'Who am I and what parts of myself am I not seeing? What parts of me am I not living that could be beautiful and inspiring and sustainable? What do I want to share with the world? Can I be attentive enough and aware enough of what I am experiencing and what other people are experiencing?' Holding that frame is often very inviting for clients and allows them to take that wherever they need to go in their own process of recovery.
Recovery Statement Workshop
The Recovery Statement Workshop is a one-day workshop that is open for everyone in the first 30 days of treatment. Through guided journaling and group work, clients are encouraged to consider questions like, "What is it that inspires you? What is important and meaningful to you? How would you describe who you are when you're not in your addiction?" Within a self-reflective space that allows you to more clearly recognize your own values, strengths, you can begin to create a vision for your own recovery and life beyond addiction.
The workshop is a process of uncovering who you are and what is it that you have to share with the world that is unique to you—and how are you going to do that? How are you going to do that and be sober and build a life for yourself in a way that is sustainable and meaningful in the long run? What is it that's going to make your recovery inspiring and worthwhile enough to get up in the morning, even when you're experiencing cravings, feeling depressed, or feeling alone?
The workshop culminates in each client writing a statement articulating their own answers to these questions, which can serve as a roadmap through the recovery process. Clients who stay longer than 30 days are welcome to repeat the workshop, and many find that their statements are very different the second time around. "The first round is almost as if they're getting a sense of what is out there and what resonates with them," Anna says; "The longer they're able to be in the self-reflective process, the more they're able to clarify their statement and articulate it for themselves. It goes from being vague to being much more specific and concrete, and much easier to implement."
Spirit Walk
One of the most enjoyable—and often powerful—experiences many clients have at Alta Mira is the Spirit Walk, a group workshop designed to nurture growth and discovery through ritual, communion with nature, and introspection.
We go up to a park in the redwoods and my hope there is to facilitate a process of self-exploration and change by creating a sense of sacred space for deeper reflectivity, for sharing, and for connection. I see that connection as both being an internal connection with a deeper part of you, when you're able to be quiet inside and there's quiet around you, and an external connection, where you're able to connect to other people and share in a deeper way.
In the park, Anna lights a fire and leads clients through a ritual to set the space, then asks them to go off on their own, sit in nature, and journal on "things that will help them identify their old patterns, beliefs, and behaviors, and invite in something new that they've learned about themselves that they wish to carry forward." The group then rejoins and shares their thoughts and reflections, giving each other feedback on what they have uncovered.
One of the great joys is being able to see clients outside of the treatment setting and be able to be calm, relaxed, and able to really let go and just be with themselves and each other. We just get to be a circle of humans who are sharing and coming together with the intention of growing and supporting each other through that growth. That is an amazing thing to be able to be a part of.
Enneagram Workshop
The Enneagram workshop is open to clients who stay with us for over 30 days, and offers an introduction to the enneagram, a typology of nine personality types that Anna describes as "a spiritual system that captures our reflectivity and awareness." She begins by explaining the different personality types within the enneagram, and the unique ways each personality overcomes challenges and creates meaningful change.
That's very powerful for someone to hold onto, because it presents a different path that opens up a whole new world. They get to learn about themselves and how they are in the world and what they can do differently. They learn that choice is something that they have within them, as long as they can remain open and present.
Through the enneagram, clients are able to explore questions like: "How do I engage with myself, how do I know myself, how do I meet the world that I encounter?" Anna says, "It helps you identify what is your own unique nature and understand what you can do to be more self-aware and able to implement the changes you want to implement."
A Holistic Vision of Healing and Growth
---
The inclusion of spirituality counseling and workshops at Alta Mira is a reflection of our commitment to treating the whole person.
It's more than just the basics of recovery, which you can get anywhere. This approach is a reflection of our philosophy to not just treat the symptoms. The symptoms someone is struggling with—whether it's a mood imbalance, any kind of addiction, or an eating disorder—are a call to ask, 'What has been left behind? What has been forgotten and what is not working?' We can look beneath the surface of the symptoms, and ask, 'What is happening with you at your core and what can we do to help that core part of you shine?' This is a reflection of that approach. It's saying, 'I see you. I see you as a human who is struggling. What can I do to be a support for you so that you can struggle a little bit less and feel more connected to yourself and the people you care about?'
By honoring the unique qualities, experiences, and struggles of each person and giving them the guidance and space to strengthen not only their recovery, but their spirits, we can create extraordinary personal growth and healing.
One of my favorite moments in this work is when clients start to experience this 'aha' moment when they start to see, 'These are all the different ways I've constructed to protect myself from the thing that I fear, and yet I am strong enough to withstand this. I do have something else available to me that I can do that's not going to lead me down into this dark hole again.' When they can implement that in their lives and say,'Wow, I got it, and it worked. It gave me something.' That's something they get to carry with them. That sense of accomplishment and peace is something that they get to hold.
Alta Mira provides comprehensive treatment for people struggling with addiction, co-occurring mental health disorders, and process addictions. Contact us to learn more about our innovative residential program and how we can help you or your loved one start the journey to recovery.