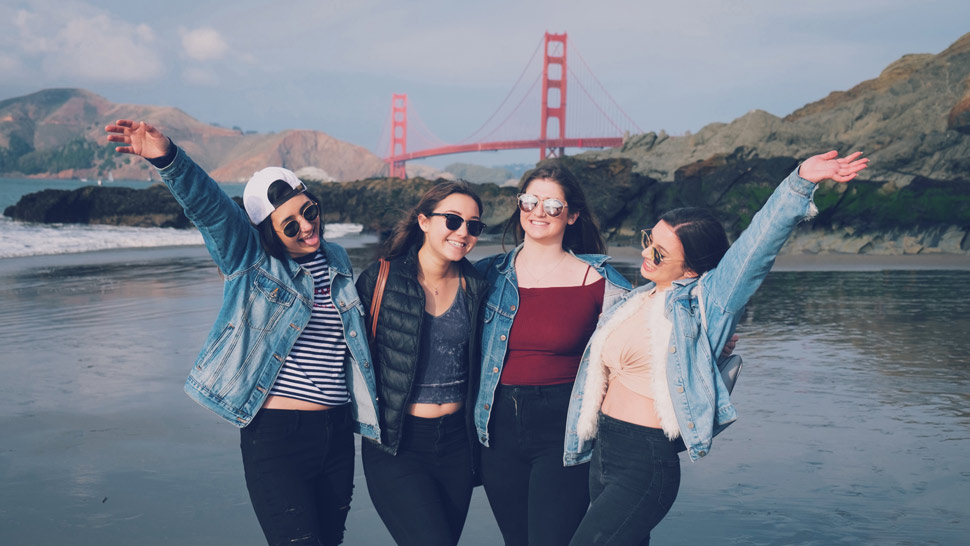 Alta Mira Alumni Program
We are here to offer you support, safety, and inspiration as you continue your commitment to a life in recovery.
We are here to offer you support, safety, and inspiration as you continue your commitment to a life in recovery. We recognize that we are all stronger when we offer our support to one another, and we value the opportunity to share in your journey. That's why we provide tools that you can take with you, including a Relapse Prevention Plan (RPP), a comprehensive continuing care plan, and peer support groups. It's also why we create meaningful opportunities for you to return and reconnect. Alumni events help your recovery by giving you a wide range of ways to build a network of support that you can access as often as you need, whether you're in the Bay Area or across the country.
From the moment you arrive at Alta Mira, we work together to help you prepare for the life of meaning and possibility that awaits you beyond treatment.
Through getting to know your peers in recovery, you may realize that the first year of sobriety in particular will challenge you in difficult and new ways. You'll participate in hard conversations, face old and new triggers, and make some tough choices and decisions.
Useful Recovery Tools
---
When you complete your treatment program at Alta Mira, you'll leave equipped with a handful of resources that you can use immediately to help when these moments arise.
Work With Your Relapse Prevention Plan.
As your primary resource for post-treatment help, this document can really make a difference in the moment. Created in cooperation with your Primary Therapist and other Alta Mira staff members, this resource can help you remember your intentions when you're no longer on campus. Keep it on hand for when you find yourself needing its support.
Attend Weekly Aftercare Meetings.
Every Wednesday night from 7-9 PM, Alta Mira alumni from all over the Bay Area come together at Alta Mira's residential campus to support each other in recovery. These meetings give you a place to share what you're struggling with, while learning from the struggles and successes of your peers. Whether you attend immediately after completing treatment or for years into the future, these meetings are incredibly helpful in giving a sense of belonging to all clients. Aftercare meetings are facilitated and supported by Alta Mira staff, so you'll benefit from professional guidance as well.
Check-in With Staff Members.
As an Alta Mira alumni, you have the opportunity to reach out to our Recovery Support Coordinator anytime you need a bit of extra support. We contact alumni after discharge at regular intervals (one day, one week, and regularly thereafter). You can also schedule a check-in before a special event that may be triggering for you. Our Recovery Support Coordinator will work with you to develop coping skills for that big business convention in Vegas or the upcoming family wedding—crafting a concrete plan for what to do when the time comes.
Continuing Care Planning
---
From the moment you arrive at Alta Mira, we work together to help you prepare for the life of meaning and possibility that awaits you beyond treatment. To ensure the highest level of clinical excellence, we use the Collaborative Care Model of treatment. This extensive multidisciplinary team approach allows for integrated communication with all clinical and medical providers, working to achieve a successful and sustainable treatment outcome for you.
Comprehensive continuing care planning and support
Access to our 12-week Intensive Outpatient Program
Weekly alumni groups focused on relapse prevention
Ongoing availability of our renowned Family Program
Our goal is for you to feel nurtured and cared for while engaging in a shared experience of community from the moment you enter our doors, throughout your entire treatment experience. Our caring addiction and mental health professionals develop continuing care plans in coordination with external clinical healthcare providers, including any members of your care team prior to treatment with us.
Ongoing Support For Alumni
---
The resources above will be available to you on an ongoing basis as long as you wish—but we also offer a number of other opportunities for you to network with other alumni, reconnect with staff members, and access important resources to help in your journey to recovery.
With a national network of alumni, it's easy to make relationships with others who understand your experience. Stay in touch with your Alta Mira sponsor by letting them know how you're doing! No matter which stage of recovery you find yourself in, they are there to help in any way they can. We have also had alumni groups meet in San Francisco, Los Angeles, and New York City—in addition to other individual meetings locally and across the country—and Recovery Support Coordinator Sharif Ali enjoys traveling to meet alumni during these occasional events.
As an alumnus of Alta Mira, you also have lifetime access to resources through our clinical outreach program. The staff members you trust can recommend professional services wherever you call home, and will happily connect you with pre-vetted specialty therapists and psychiatrists in your area. This program also helps connect you with mental wellness professionals, holistic therapies, marital counseling, and any other supports that you request.

The Alta Mira Meeting Finder is another valuable resource for clients discharging from treatment. This comprehensive listing of 12-step meetings helps you easily identify meetings to attend in your local area or elsewhere—alumni frequently use this resource when traveling away from home as well. Twenty-two different 12-step program types are represented, which means that you can easily find a support system for whatever you're struggling with, wherever you happen to be.
Quarterly Alumni Tune-Ups
---
These two-day themed workshops are designed to refresh and renew your commitment to recovery. By reconnecting with Alta Mira staff and other alumni, you can celebrate success and learn new coping skills together. Each tune-up is based on a topic that's incredibly relevant to the struggles and triumphs of recovery (for example, a recent Tune-Up featured the empowering book Rising Strong™ by Brene Brown about courageously responding to difficulty in our lives). Attend one or many of these events to continue your personal growth and build relationships with others in recovery.
Each tune-up concludes with a meaningful alumni panel discussion where current in-house clients can learn from returning alumni and ask questions about integrating into the "real world" after treatment. You'll have the opportunity to share your story and inspire others who are just embarking on their treatment journey. This is an incredibly fulfilling way to give back to the Alta Mira community, and to allow your experience help others on their own path.
We hope that this page will become your resource for connecting to your support network, keeping track of alumni events, and finding recovery resources. We welcome your input and hope you will connect with us here often. Together, we can continue to support one another and share in the miracle of recovery.