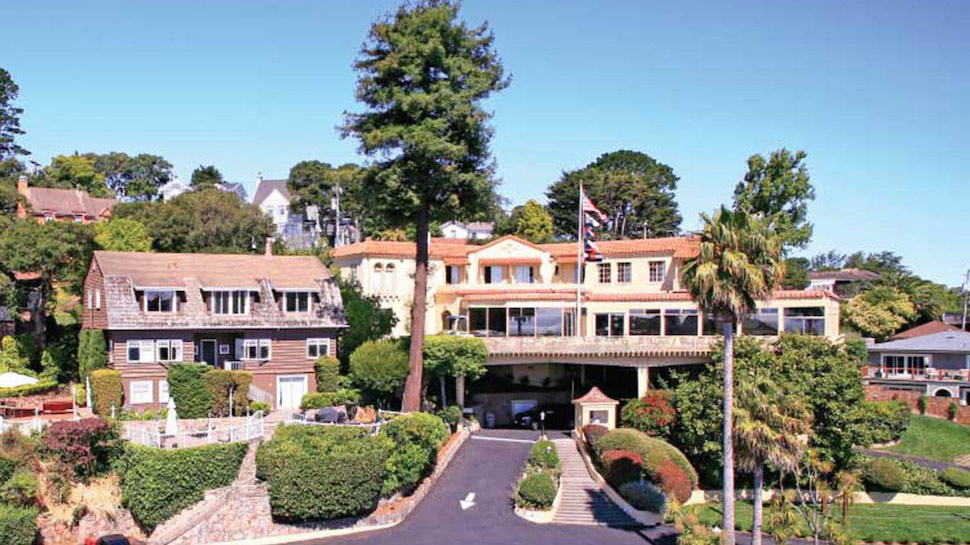 Treatment Outcomes
Alta Mira Recovery Programs is committed to monitoring patient progress in treatment and to measuring and improving treatment outcomes. Vista Research Group is an independent research group that was founded in 2015 to help treatment programs cost-effectively measure and improve their success rates. The following results from our year-long study were published in August 2019.
Vista Research Group Background
---
Vista Research Group gathered data from participating Alta Mira clients at four points – early in their stay at the center, one month after leaving treatment, six months after leaving treatment, and one year after leaving treatment. Vista collects treatment outcomes using validated research methodologies.
Alta Mira began enrolling clients in INSIGHT Addiction™ — the tool Vista Research uses for measuring our outcome data—on July 15, 2018. This report summarizes data recorded between June 15, 2018 and June 30, 2019.
As part of their Intake Questionnaire, the patients were asked a series of screening questions about the 30 days before they started treatment. If they answered one or more of the screening questions for a particular co-occurring disorder positively, they were then taken to a full academically-validated instrument to measure the severity of their symptoms of that disorder.
INSIGHT Addiction™ uses the following instruments that have been academically-validated for self-report:
Depression: PHQ-9
Anxiety: GAD-7
Trauma: PCL-6
Suicidal Thoughts & Behavior: Columbia Suicide Severity Rating Scale
Eating Disorders: Dr. Eric Stice's EDDS questions as modified for DSM-5
Winner of Prestigious Excellence In Treatment Award
---
Via an independent panel of judges, Conquer Addiction, Inc. honored Alta Mira with the 2019 Bronze Excellence in Treatment Award. The Excellence in Treatment Awards were given on October 1, 2019 at the Moments of Change conference to four addiction treatment centers demonstrating the highest post-treatment abstinence success rates.
Commitment to excellence in the treatment services we provide has led us to seek out ways to better understand what is effective about our care and treatment services so we can always continue to improve upon our post-treatment success rates.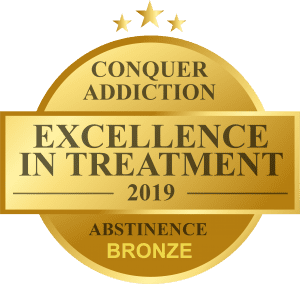 Alta Mira's Preliminary Post Treatment Outcomes Results
---
Preliminary Outcomes Results: Abstinence at

One Month

Post-Treatment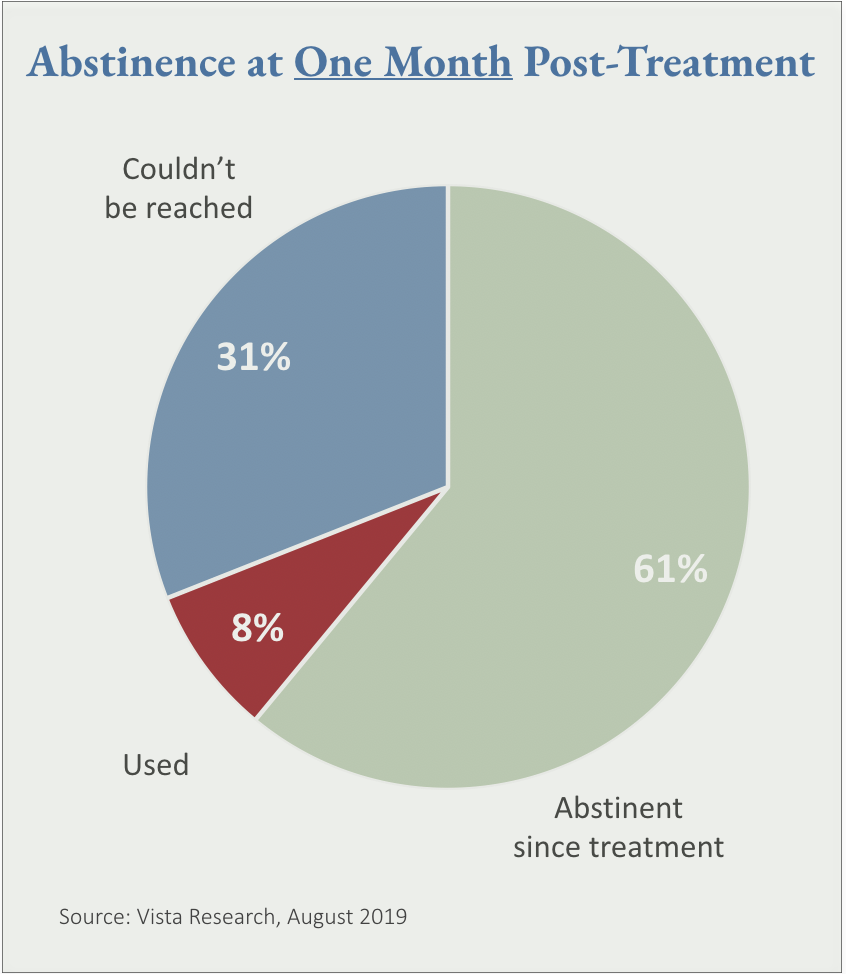 Alta Mira's post-treatment outcomes results are excellent

Among 67 patients discharged between 7/14/18 and 5/31/19
Preliminary Outcomes Results: Abstinence at

Six Months

Post-Treatment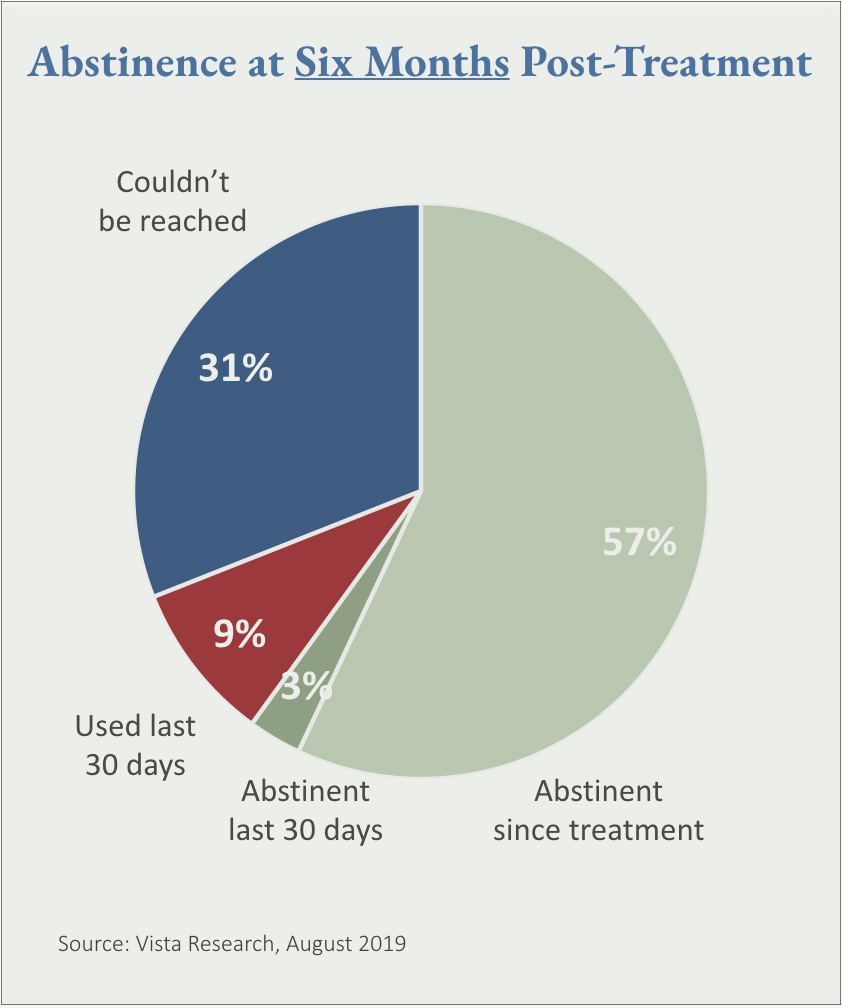 Alta Mira's post-treatment outcomes results are excellent

Among 35 patients discharged between 7/14/18 and 12/31/18
Preliminary Outcomes Results: Alta Mira Outcomes vs Group Norms
Patient Characteristics at Intake
---
Overall Feeling Prior to Treatment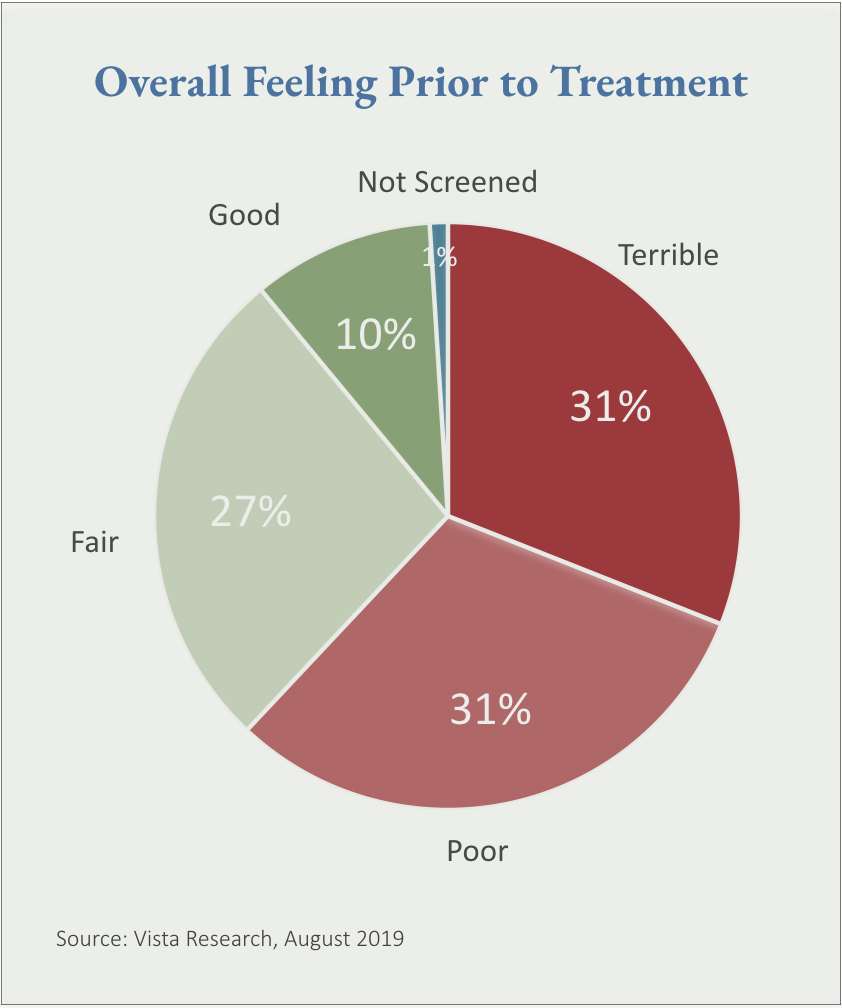 Slightly more than half of patients (56%) were male

Patients were mostly white (88%)

The median age was 38

70% had received at least one degree

Just under half (49%) were employed prior to treatment, with 30% neither working nor studying by choice

Nearly all (93%) were in a stable living arrangement
What Brought Patients to Treatment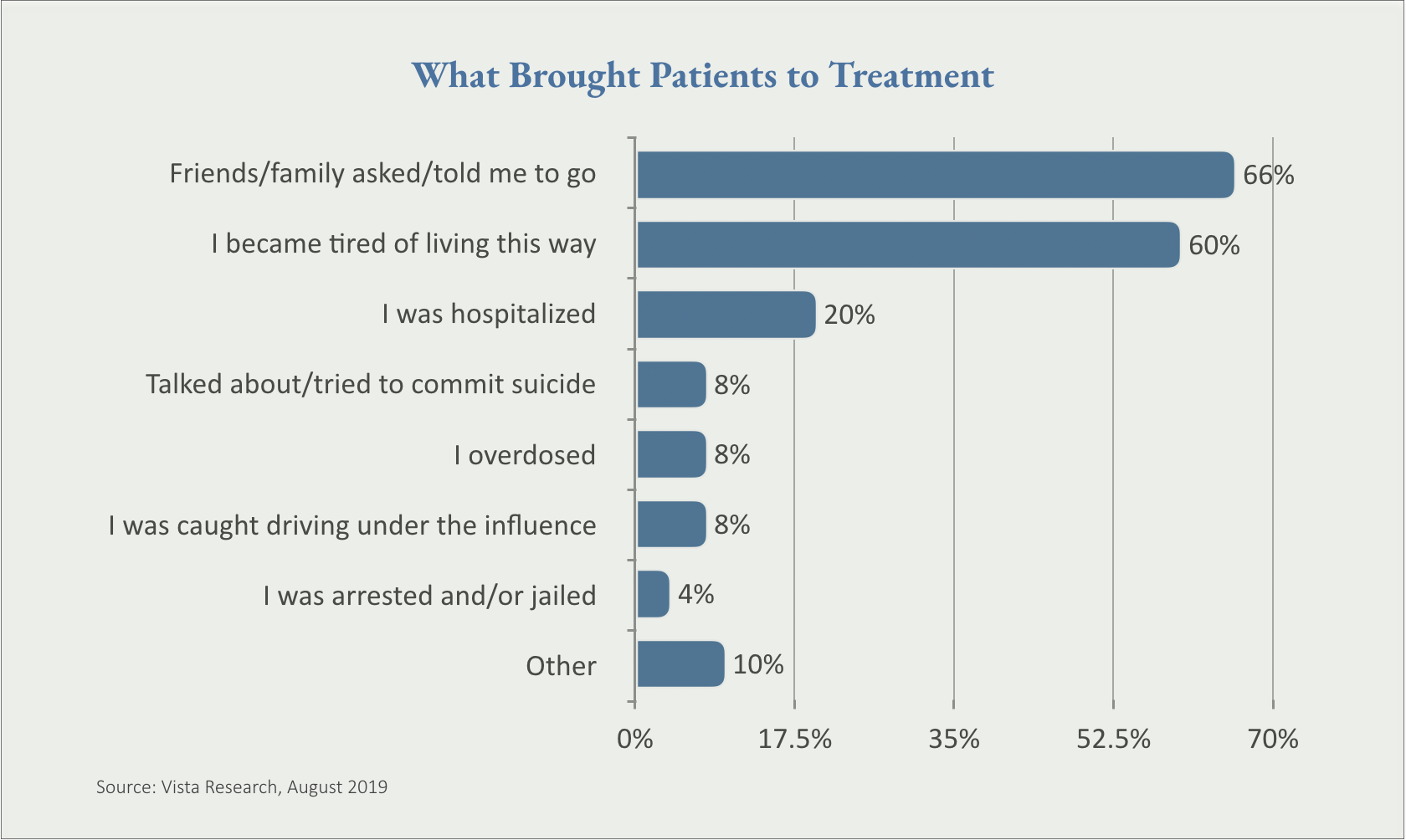 The largest group of patients (66%) entered treatment because they were asked to go by family or friends
Almost as many (60%) had become tired of living the way they were
20% had been hospitalized immediately beforehand
Primary Drug of Choice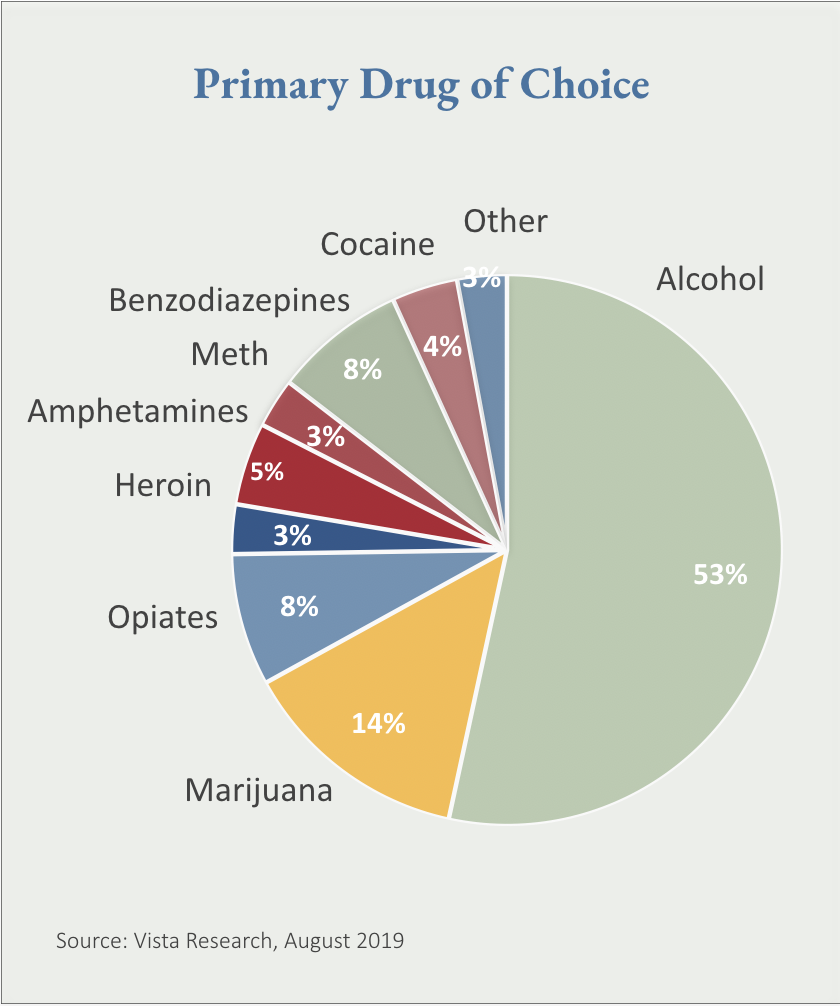 Alcohol was the primary drug of choice for over half of the patients.

Marijuana was the primary drug of choice of 14% of patients

8% were using opiates

8% were using benzodiazepines
Addiction Severity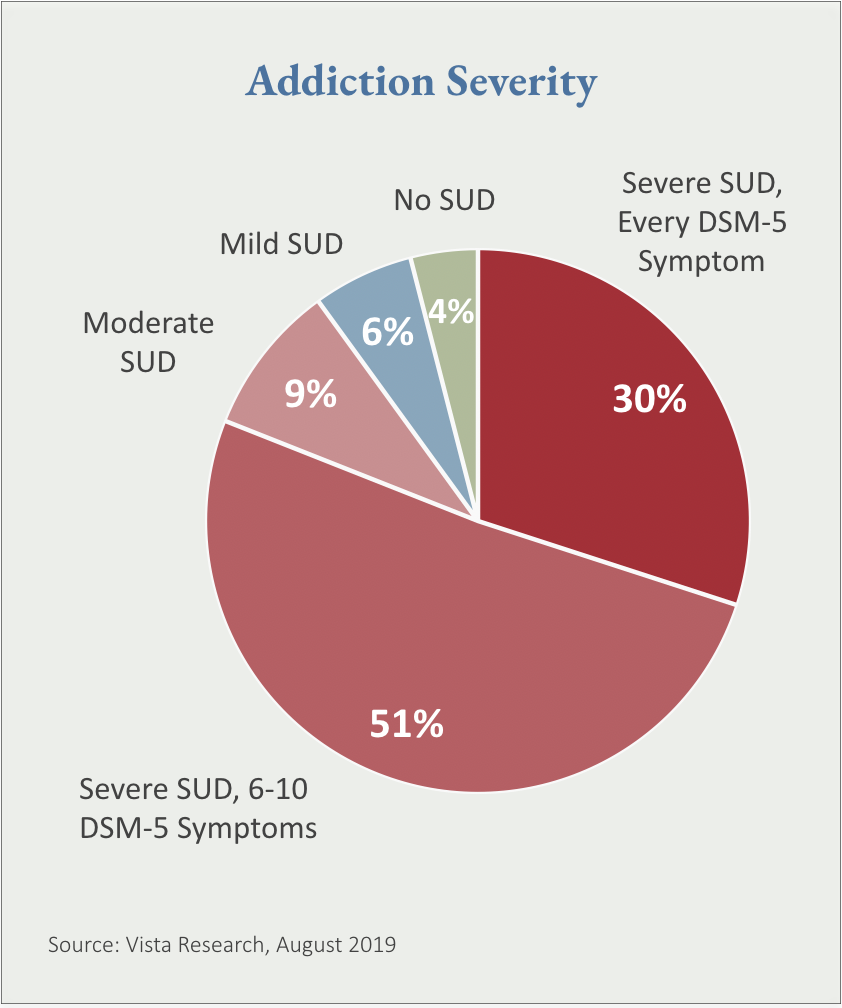 81% of Alta Mira's patients met the definition of having a severe alcohol or drug use disorder
30% of them reported having experienced all 11 of the DSM-5 SUD criteria in the year before starting treatment
Previous SUD Treatment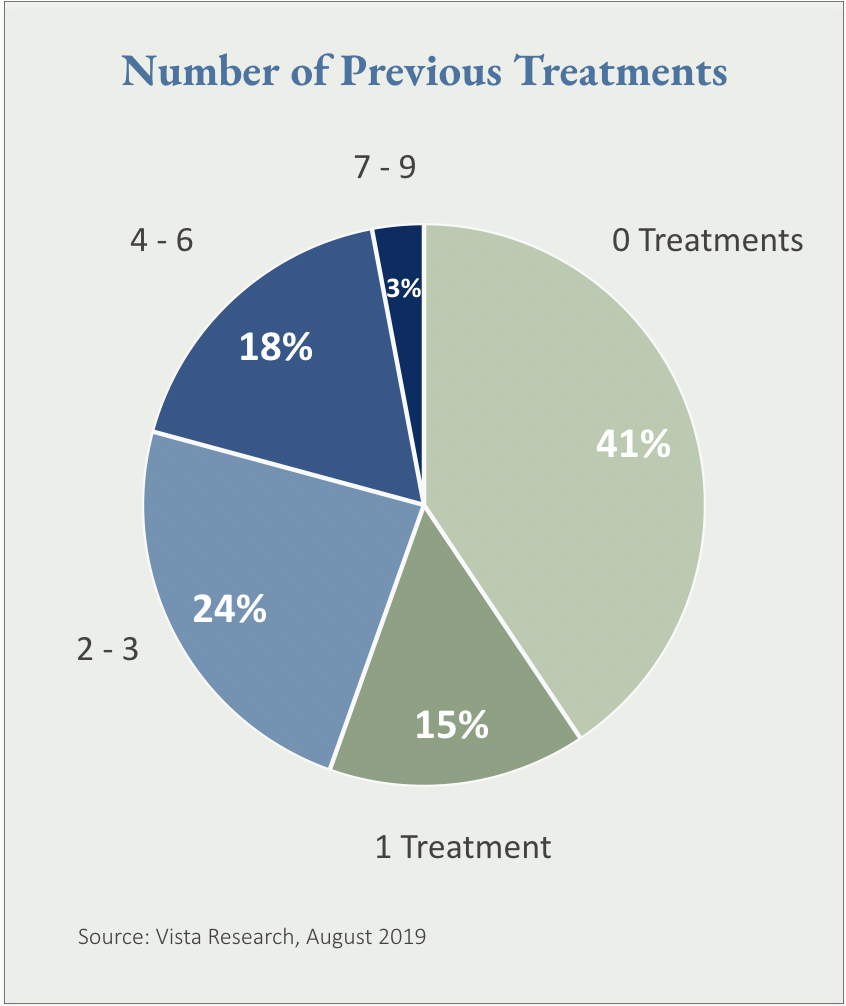 Among the 80 patients, 59% had been in SUD treatment before, and 20% had been in treatment on 4 or more occasions
Patient Progress During Treatment—Symptom Reduction
---
Patient Progress on Depression Symptoms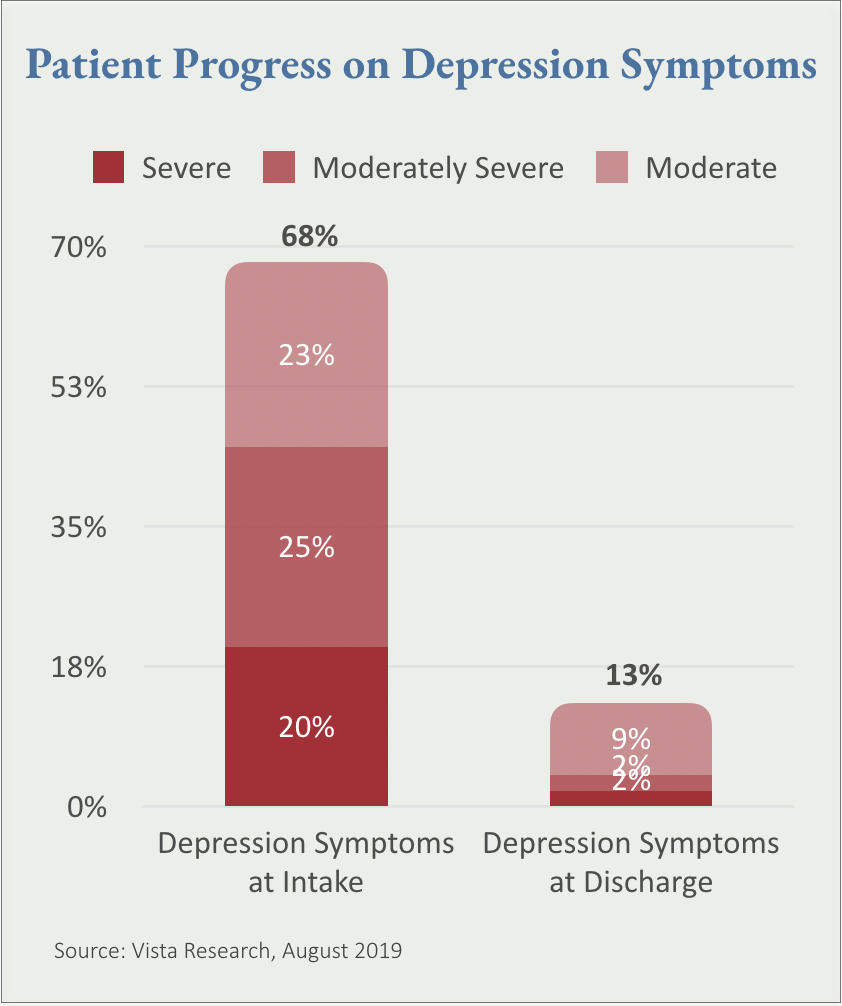 The majority of patients entering Alta Mira reported suffering moderate or severe symptoms of one or more co-occurring disorders in the 30 days prior to entering treatment
During the time they were in treatment, the severity of depression symptoms that Alta Mira patients were experiencing declined dramatically
Patient Progress on Anxiety Symptoms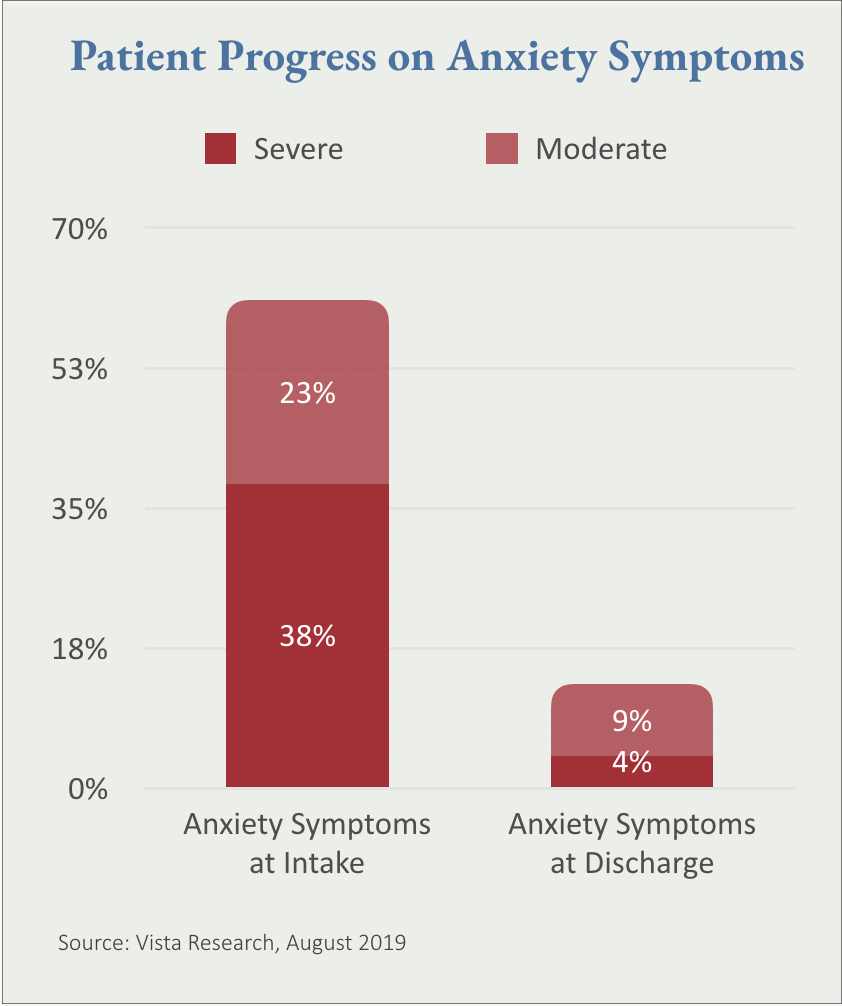 During the time they were in treatment, the severity of anxiety symptoms that Alta Mira patients were experiencing declined dramatically
Patient Progress on Trauma Symptoms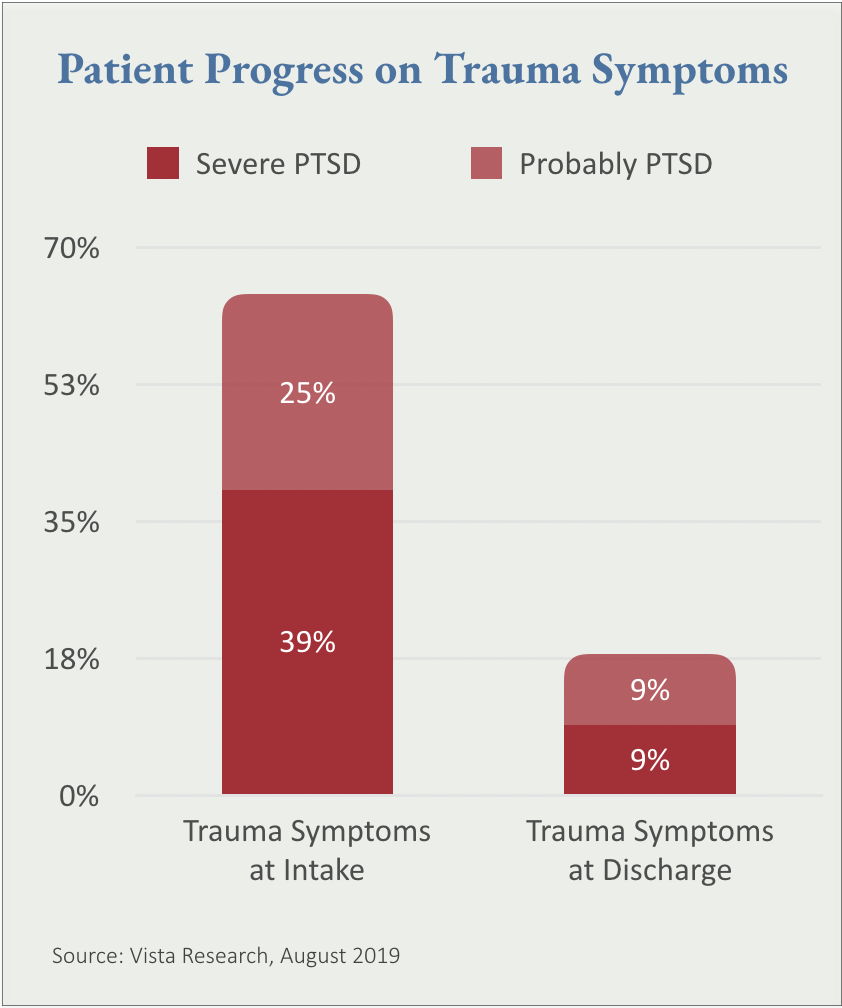 During the time they were in treatment, the severity of trauma symptoms that Alta Mira patients were experiencing declined dramatically
Reduced Suicidal Thoughts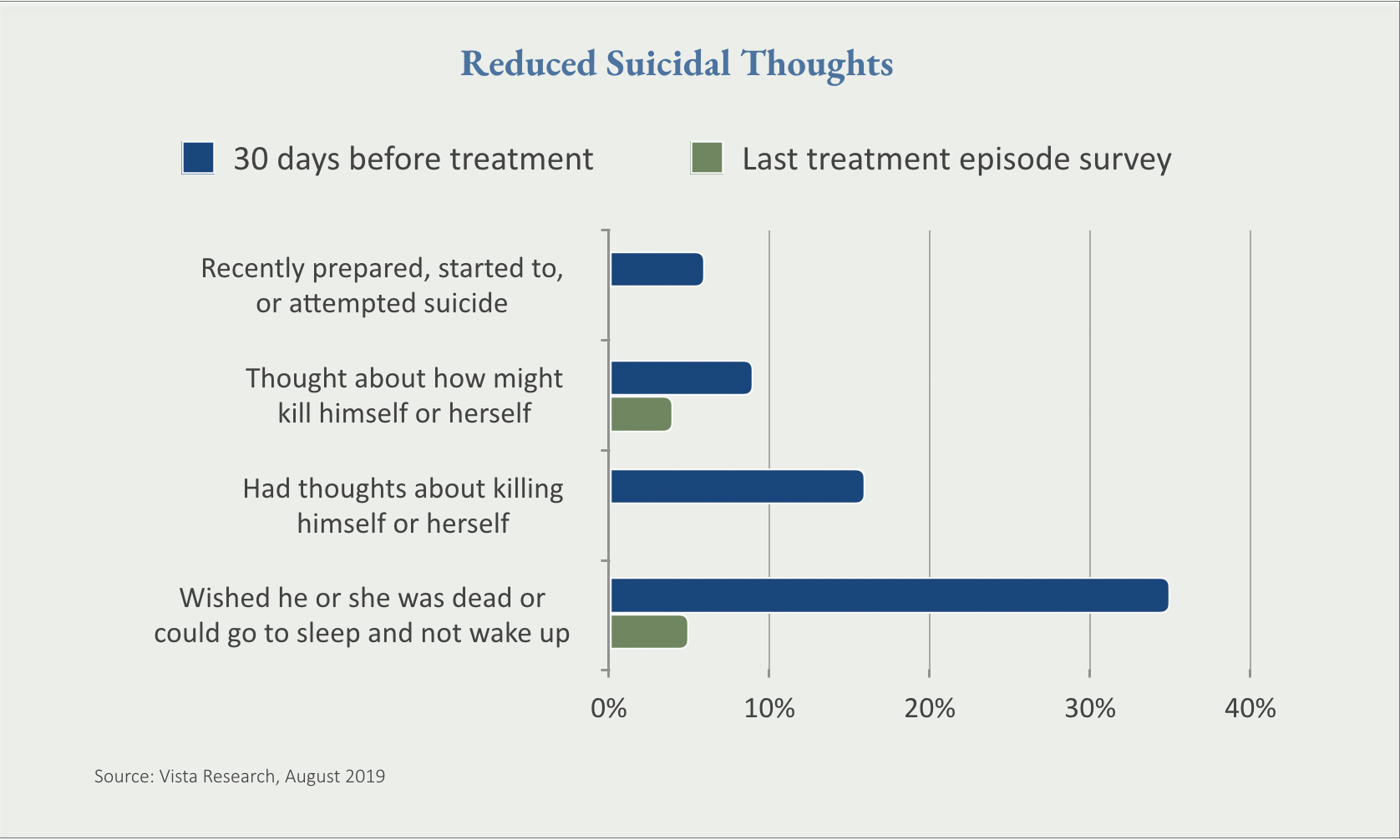 The level of patients reporting suicidal thoughts greatly reduced during treatment. Only 4% reported wishing they could go to sleep and not wake up on their last survey
Treatment Success
---
Reason for Discharge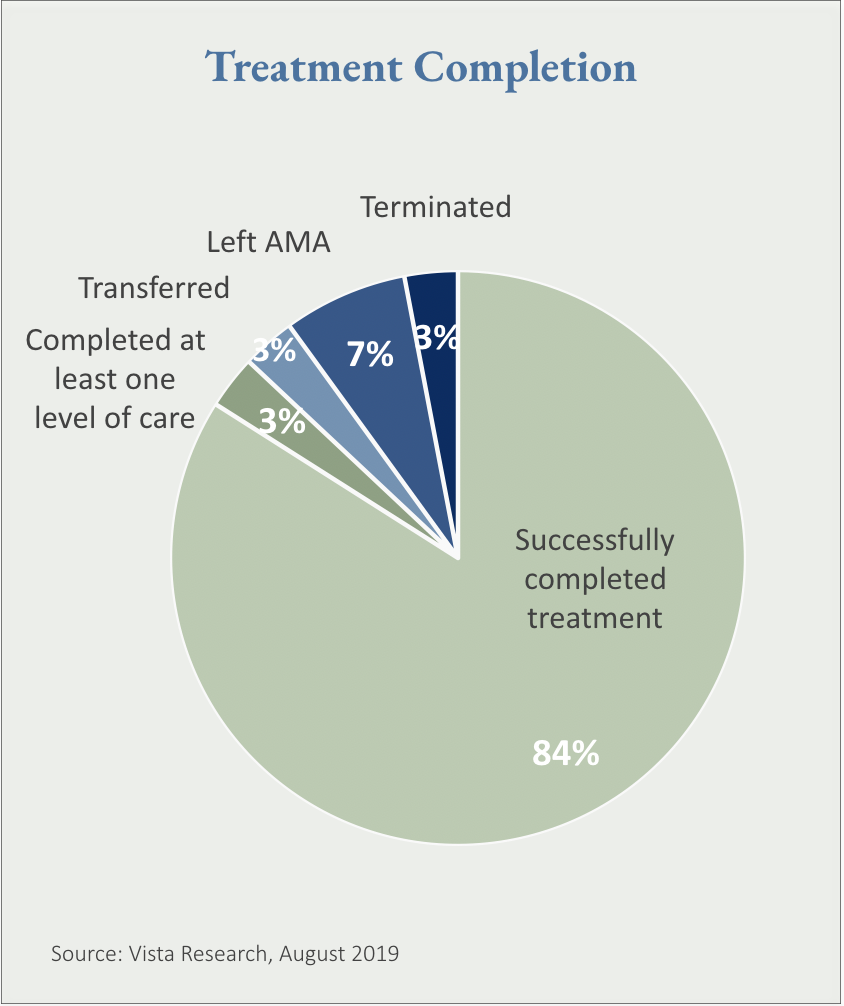 Among the 69 clients who discharged from Alta Mira during the period between June 15, 2018 and June 30, 2019, 61 (87%) completed at least one level of care and 84% completed all recommended treatment