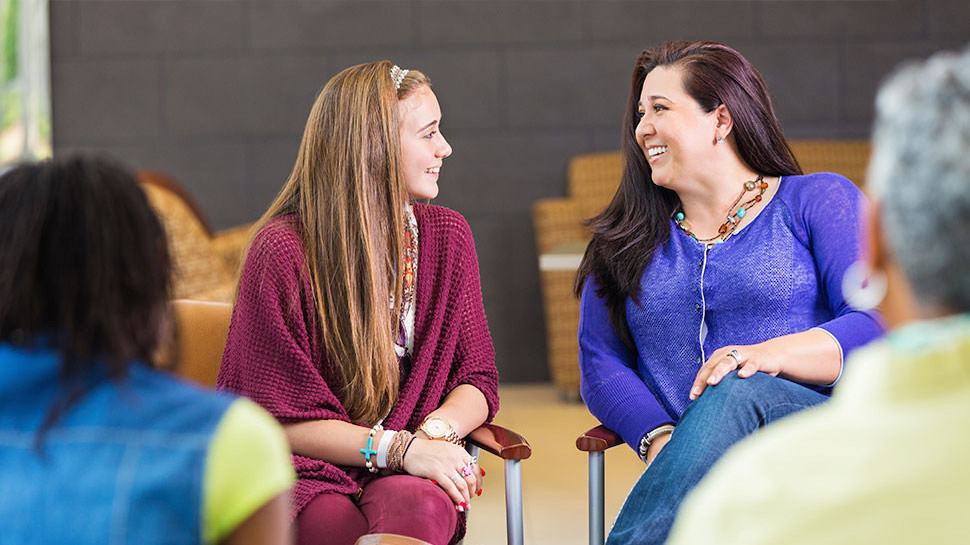 Family Program
At Alta Mira, we believe that family involvement is one of the most important components of a successful treatment experience.
As the family member of someone who struggles with addiction, you are likely a driving force behind your loved one's decision to get help. We honor you as an individual who will be deeply impacted by your family member's treatment experience. Therefore, we include you in the process and provide meaningful opportunities for your own personal growth and healing. Our approach to working with family and friends is layered and comprehensive. We understand that your schedules and geographic locations may pose some limitations in terms of how you are able to participate, so we make several options available.
4-Day Family Program
---
Our goal is to bring healing, safety, and insight to family members struggling with their loved one's addiction. In an atmosphere of compassion and caring, one can learn about the biology and psychology of addiction and the inner experience of the person who is chemically dependent and/or struggling with co-occurring disorders. We will also help you to understand:
The role of shame and fear in individuals with chemical dependencies and their families
How families operate as systems
Codependency and how loving too much can get in the way of a person's need to assume responsibility for him- or herself
How to support the recovery process and manage the potential for relapse
In addition to participating in educational sessions and process groups, you have the opportunity to meet with your loved one's therapist, both alone and with the loved one in treatment. After your loved one stabilizes during their initial 30 days, you may attend multiple sessions of the 4-Day Family Program.
Family Participation During Treatment
---
As a family member of a loved one seeking addiction treatment, you hold an incredible amount of information, insight, and experience that can impact your loved one's journey to recovery. Therefore, we encourage you to openly share your honest feelings, stories, and opinions regarding your loved one during their substance abuse struggle. After consenting to participate, our staff contacts you and other family members to discuss your history and complete a family assessment.
The Initial Assessment
Your loved one's primary therapist begins to learn more about the client and your family right after admission, in order to develop a treatment plan that addresses their unique needs. Your loved one receives a physical examination, a psychiatric evaluation, and a spectrum of psychological and personality tests to let our team know more about their treatment needs.
Weekly Updates
Because you are so important to the treatment process, your family member's primary therapist connects with you each week. The therapist gives you updates regarding your loved one and may seek information relevant to their healing and recovery.
Family Therapy Sessions
For the benefit of both you and your loved one, the primary therapist may ask you to participate in family therapy sessions (on an as-needed basis). The sessions include you, your loved one, and any other designated family members, and the purpose is to facilitate personal healing and growth for all participants. Depending on your needs, you can take part in these sessions in person, by phone, or via Skype.
Discharge Planning
To maintain successes achieved during treatment, it is critical that we provide your loved one with ongoing and continuing structured recovery support after they leave our campus to return home. To ensure the smoothest possible transition, the Alta Mira experts create a discharge plan for your family member. We will keep you informed of developments in the discharge plan, as you and other family members have a major role to play in supporting your loved one as they continue on their lifelong recovery journey. We encourage clients to provide you with a written copy of the discharge plan, so you are informed and can be there for your family member when needed.
The Benefits of Family Therapy in Rehab
---
In family therapy, the focus is on the family as a whole. How well do the members of the family communicate? Are there feelings of resentment concerning the recovering addict's abuse of drugs? Is there a lack of understanding about why one member of the family is addicted to drugs or even what addiction is? For example, some individuals might believe that using drugs is a choice that can be easily altered. They may not understand that addiction is a chronic, recurring brain disease that requires intensive treatment programs to curtail it.
Family therapy is designed to address all the interpersonal relationships that occur within one family unit. Since the entire family is traumatized by drug and alcohol addiction, it makes perfect sense for the entire family to engage in treatment for the issues raised by the addiction. By adding the family members to the recovery process, the motivations of the recovering individual are changed, as are the individual's needs.
At Alta Mira, we have the experience and desire to help your entire family heal from the damage that addiction causes every day. Through our transformational program that is tailored to the needs of each individual and family, we can give you the tools you need to succeed. Please, do not hesitate to contact us for a consultation and find out how we can help you. Contact us today.