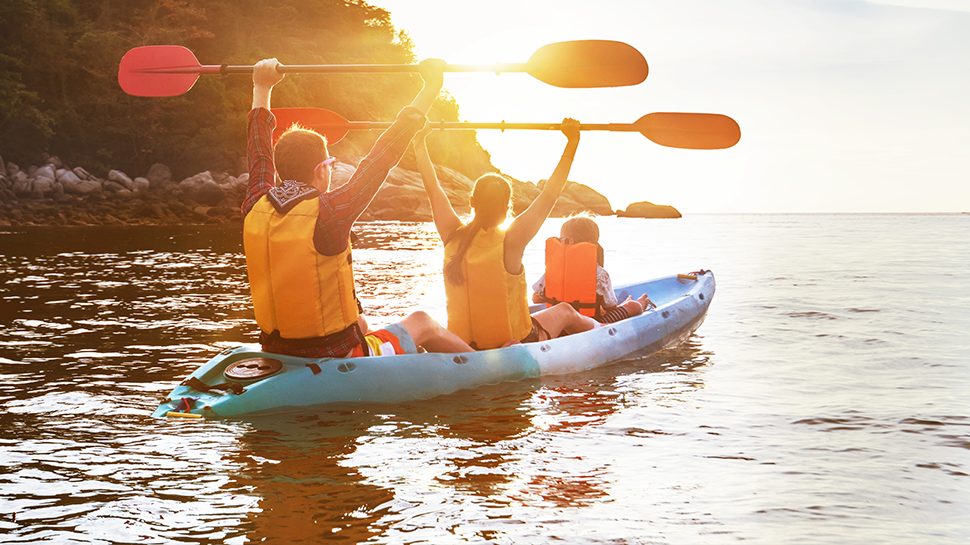 Luxury Stimulant Addiction Treatment
Rehab Center for Stimulant Addiction
Stimulants are a diverse group of substances that include both prescription medications and illegal street drugs, as well as commonly used legal substances such as caffeine and nicotine. Stimulant drugs have a similar core effect on the human brain and body by temporarily increasing alertness, energy, and mood. Alta Mira's evidence-based stimulation addiction treatment, including supervised detox, residential care, and therapy, offer the intensity and duration necessary to go beyond stabilization to achieve lasting recovery.
What is Stimulant Addiction?
---
Stimulants increase levels of the chemical dopamine inside a brain network known as the limbic system, or pleasure center. Dopamine naturally rises in response to human activities that bring pleasure. Stimulants mimic this effect, but in an outsized way, leading to the onset of a profoundly pleasurable sensation called euphoria. Euphoria is also a common side effect of other addictive substances. In many cases, this sensation creates the enticement to begin a harmful pattern of substance abuse.
The most commonly known stimulants include:
Cocaine
Methamphetamine
Adderall
Ritalin
Concerta
Dexedrine
Caffeine
Stimulant Addiction Facts and Statistics
In 2016, The Substance Abuse and Mental Health Services Administration (SAMHSA) estimated that roughly 1.7 million Americans over the age of 11 abused a stimulant medication each month. In addition, approximately 1.9 million Americans over the age of 11 used cocaine. Roughly 667,000 people over the age of 11 used methamphetamine.
SAMHSA's breakdown of the ages of people who misuse or abuse stimulants for each category of stimulants was as follows:
Stimulant Medications
People age 26 or older – roughly 876,000 affected
People between the ages of 18 and 25 – approximately 767,000 affected
Younger adolescents and preteens – roughly 92,000 affected
Cocaine (including both powdered cocaine and "crack")
People age 26 or older – roughly 1.3 million affected
People between the ages of 18 and 25 – approximately 552,000 affected
Younger adolescents and preteens – roughly 28,000 affected
Methamphetamine
People age 26 or older – roughly 594,000 affected
People between the ages of 18 and 25 – approximately 65,000 affected
Younger adolescents and preteens – roughly 9,000 affected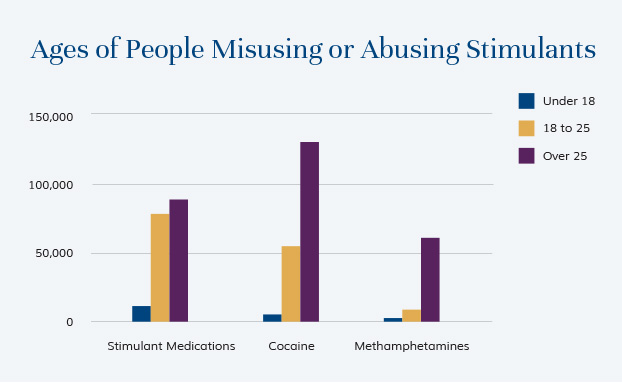 SAMHSA also tracks the number of people with diagnosable symptoms of stimulant use disorder. In 2016, roughly 540,000 Americans over the age of 11 met at least the minimum threshold for this condition. In sheer numbers, adults over the age of 25 are affected most often. However, in percentage terms, risks for the disorder are highest in young adults between the ages of 18 and 25.
Effective World-Class Treatment for Stimulant Addiction at Alta Mira
---
Stimulant addiction can be a difficult condition to overcome. But with treatment, support, and a strong relapse prevention plan, individual outcomes and quality of life can be improved. Our luxury stimulant addiction treatment center provides evidence-based therapies, 24/7 medically supervised detox, residential care, and group therapies, which guide the intensity and duration necessary to go beyond stabilization to achieve lasting recovery.
For someone in the depths of stimulant addiction, recovery can feel like an unattainable goal. But it's important to know that stimulant addiction can be overcome and a clean and sober life can be achieved. No matter how many times an addict has tried and failed, or how long they've been struggling with the disease, recovery is possible. It's never too late to get treatment.
When clients first walk through our doors at Alta Mira, many are unaware they may have an untreated mental health issue that is contributing to their struggle with stimulant addiction. Treating the symptoms of the addiction alone may not lead to lasting recovery if the co-occurring disorder remains unrecognized and untreated. Our approach provides for the most accurate diagnosis possible, enabling our team to customize an effective treatment plan to fit your unique needs and goals, providing a pathway to a more authentic, productive, and healthy life.
Evidence-Based Treatment Modalities
We use evidence-based modalities in our residential stimulant addiction treatment programs, including dialectical behavior therapy (DBT) skills, cognitive behavioral therapy (CBT), Somatic Experiencing (SE), and Eye Movement Desensitization and Reprocessing (EMDR), where appropriate.
Accurate Diagnosis
From your initial psychiatric evaluation to your individualized neuropsychological testing, we work to develop the most accurate diagnostic profile possible. Depending on each individual client's detox, identifying underlying co-occurring issues can take several weeks.
Appropriate Medications
Following the initial psychiatric evaluation, clients meet with our psychiatrist weekly while they are in residential treatment with us. When prescribed, the use of genetic testing can help clients get on medications that work better for them with fewer side effects.
Signs and Symptoms of Stimulant Addiction
---
The term stimulant abuse has several partially overlapping definitions. For a person with a legitimate prescription to a stimulant medication, abuse occurs whenever that drug is taken in larger amounts than intended and/or in larger doses than intended. For an individual without a legitimate prescription, any consumption of a stimulant medication qualifies as a form of abuse. In addition, episodes of abuse occur whenever a person consumes any amount of a stimulant street drug.
Stimulant abuse also has a more formal definition as part of a diagnosable illness called substance use disorder. People affected by this disorder have established a dysfunctional lifestyle based on the consumption of a stimulant drug or medication. Aspects of this lifestyle can include such things as:
Repeatedly consuming stimulants in physically dangerous situations
Consuming stimulants in a pattern that makes it difficult or impossible to meet responsibilities at work, at home, or in school
Consuming stimulants despite the negative repercussions on important personal relationships
The stimulant use disorder diagnosis also applies to people who are addicted to stimulant drugs or medications. Addiction to these substances occurs when their presence triggers long-term changes in the brain's day-to-day function. Essentially, the brain comes to expect a certain amount of the drug or medication in question. If this demand goes unmet, the user will experience unpleasant and potentially dangerous withdrawal symptoms. Other indications of a stimulant addiction include:
Rising tolerance to the mind-altering effects of a drug or medication
Loss of control over the intake of a drug or medication
An inability to quit taking a drug or medication despite repeated attempts
Establishment of stimulant use and recovery from stimulant use as main life priorities
Affected individuals also tend to develop strong urges for stimulant use when occupied with other activities.
Struggling with Drug Addiction?
Recovery is Possible
Signs of a Stimulant Overdose
---
When consumed in excessive amounts, any stimulant drug or medication can overwhelm the central nervous system and trigger the onset of an overdose. Common symptoms of a relatively mild overdose may include:
Muscle tremors
Lightheadedness
An irritable or confused mental state
High sweat output
Aggressive behavior
Chest tightness or pain
An irregular heartbeat
Life-threatening symptoms of a severe overdose include:
Convulsions (i.e., seizures)
An unsustainably high body temperature
Stroke
Extreme heartbeat irregularities
Complete cardiac arrest
For most stimulants, risks for a severe overdose are closely linked with increases in drug/medication consumption. However, a cocaine user can develop potentially lethal problems even when consuming an accustomed amount of that drug.
Get Help for Drug Addiction
Alta Mira is a Safe Place to Get Your Life on Track
Knowing When It's Time for Stimulant Addiction Treatment
---
Getting help for stimulant addiction is vital. But making that first step toward this important and potentially life-transforming move can be challenging for anyone who has tried to manage addiction on their own.
Residential treatment for stimulant addiction is most effective because it allows an individual to focus on treatment for an extended period of time while learning the necessary skills for returning home and avoiding a relapse. Stimulant addiction treatment is tailored to each individual and typically includes:
Detox
One-on-one behavioral therapy
Group therapy and peer support
Educational programs
Family therapy
Experiential and holistic therapies
Intensive workshops
Fitness/recreation
Relaxation strategies and stress management
Learning how to avoid relapses
Relapse prevention is an important part of treatment and includes learning what triggers stimulant use, how to avoid triggers, lifestyle changes, and learning and using healthy coping strategies.
We understand that in order for stimulant rehab to be successful, we must listen closely and truly understand your needs, aspirations, personal history, and treatment goals. All members of our care team align closely with you so that you feel safe, respected, and ready to do your work. With this approach, Alta Mira co-creates a profound healing experience with you so you can achieve your recovery goals and reclaim your life.
How to Help a Loved One Get Treatment for Stimulant Addiction
Addiction is not a choice nor a sign of weakness. It is a condition of the brain that can respond to targeted treatment. When your loved one comes to Alta Mira, they will finally have a chance to be free from the debilitating effects of addiction.
While you can have an influence on your loved one's decision to seek treatment, an individual struggling with stimulant addiction must take ultimate responsibility for their own recovery. Your support and encouragement may be what will finally convince them to seek help for their struggles with stimulants.
The Challenge. Helping a loved one who is struggling with stimulant addiction can be a long and heartbreaking journey. It can be hard to help someone, particularly if they don't want help or if they live far away. Many families wait years beyond the time that they first thought about intervening.
Get Help for Yourself. If you have a loved one who is suffering from stimulant addiction, one of the first things you can do is take care of yourself by attending peer support meetings like Nar-Anon.
Consider an Interventionist. The longer you wait for someone to "hit bottom," the more their disease advances. You can actually increase the chance of a successful outcome by intervening with your loved one before their disease progresses to a more dangerous level. However, organizing your family to set limits and boundaries to get a loved one into rehab can be challenging.
Hiring a professional interventionist can help the family get organized as a team, prepare to speak to the addict in a coordinated way, to give your loved one the best possible chance of successfully arriving in treatment. Interventionists can also be helpful during and after the treatment experience, providing support and coaching to the family to ensure that the client completes treatment. If you are considering a stimulant addiction intervention, our admissions team can help.
Reclaim Your Life at Our Private Stimulant Addiction Rehab Today
---
We believe individuals are best able to focus on their recovery when immersed in a secure, serene, healing setting. That's why we provide comfortable surroundings while maintaining the most advanced and sophisticated stimulant rehab program in Northern California. Clients can expect compassionate care from our best-in-class stimulant addiction specialists.
Seeking a helping hand to guide you through these difficult times is not an easy decision. Our caring and experienced team at Alta Mira can help guide you through the next steps toward achieving lasting recovery.
Don't let stimulant addiction destroy your life. To begin your life-changing transformation, contact us today.